A post on FB from The Guardian dated 9/11/2015 shared this news.
"Vatican launches rail service to papal 
summer estate
New papal portrait gallery in Apostolic Palace of Castel Gandolfo features oil paintings of popes dating back to 16th century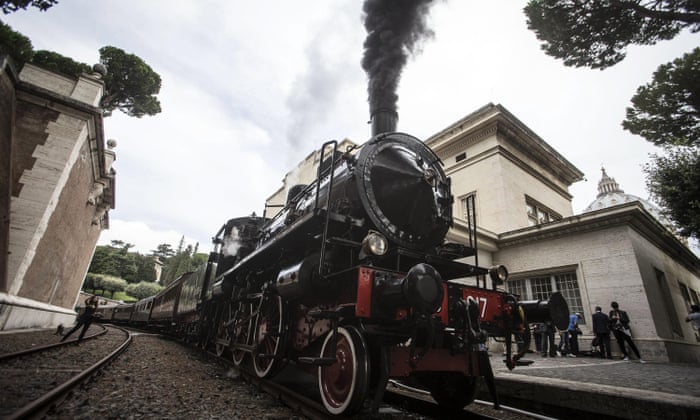 A train leaves St Peter's railway station in Vatican City. Photograph: Angelo Carconi/EPA
With a deafening whistle and a plume of smoke, an antique train departed from the Vatican railway station on Friday to inaugurate a weekly service to the papal summer estate in Castel Gandolfo, which
Pope Francis
has opened to the public.                      
Starting from Saturday, the public will be able to visit both papal estates – the Vatican museums and gardens in Rome, and a new papal portrait gallery in the Apostolic Palace of Castel Gandolfo – travelling on the service launched by the
Vatican
and Italy's railway, Ferrovia dello Stato.       
The portrait gallery features oil paintings of popes dating back to the 16th century and their vestments, thrones and even the enormous slippers of Pope Clement XII. It also has on show the fancy costumes of the onetime papal court, officially abolished by Pope Paul VI in 1968 and now exiled for good to Castel Gandolfo by the simplicity-loving Francis.                                 
Tour packages run from €16 to €40 (£12-£30) and must be booked online in advance through the Vatican Museums.                  
For the inaugural press run on Friday, Ferrovia used its century-old, coal-burning locomotive to pull historic passenger cars. The regular service will use modern trains.
Popes past have kept Castel Gandolfo as a summer getaway, and Benedict XVI closed out his papacy there on 28 February 2013 when the big wood and bronze doors on the main palazzo slammed shut after he left the Vatican for the last time as pontiff.   
Photograph Vincenzo Pinto AFP Getty Images
            
Francis, a workaholic and homebody who hates being alone, has decided not to use Castel Gandolfo, preferring to spend his summers at the same Vatican hotel where he lives.       

Last year he decided to open Castel Gandolfo's gardens to the public, in part to help offset the economic downturn the town has experienced now that popes are no longer holding weekly Sunday prayers there in summer."

Above is a repost from a facebook post today